Identity
The car is a standard coupe which is assembled in Van Nuys, California according to the VIN.
Probably it has spent all its life in California and that has kept the body in descent shape when you consider the rust found on this car.

VIN also indicates the 210 HP version of the 327 with a 2 bbl and an automatic transmission (Powerglide). Now a 4 bbl (Q-Jet) sits on top of my engine.
But I don't know if a full conversion to the 275 HP version is done. This should include a cam swap too, not just the carb.

The transmission is a TH350 and obvious changed from the original Powerglide. Deluxe interior also.

Original paint is Emerald Turquoise Met. - marked as K-K on the VIN plate.

The rearend is a 10-bolt with 3.08 gearing.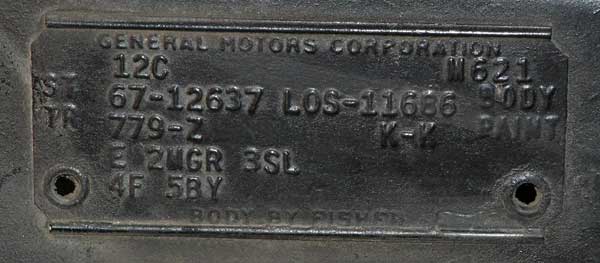 VIN tag on my 1967 Chevrolet Camaro.